Storyteller Christine Henderson shares how her videos help the saints come alive for children.
The saints are amazing! Their stories are glorious and Inspiring! Yet, how many of you know about St. Ildephonsus and the Chasuble Mother Mary gave him? Or, how Saint Colette lived in a house without a door? Knowing the stories of the saints help us to overcome our trials and to carry our crosses. Their stories help to keep us on the correct path to Heaven.
A few years ago I became very interested in storytelling and after many hours of training and workshops, I started the business Never Too Old For Stories. My storytelling business focused on two areas: using storytelling with dementia residents and performing historical reenactments at schools. My business was doing well. But then Covid hit and all senior homes and schools shut their doors. I prayed several novenas to the Infant of Prague, asking for guidance. One day while praying in front of His statue at church, He put on my heart: "Use your storytelling and puppet skills to teach about the Catholic faith." Faith & Puppets was born that day. 
God inspired me to start reading the saint stories. As I was reading them, the stories were amazing yet so many of them were written in a very "dry format." Saint So and So was born …
I realized I could make these saints come "alive" for children through telling their stories in "storyteller fashion."
I don't know about you, but I look into my past and see many choices that I wish I had made differently. God is so good, and since I've confessed those sins, I'm forgiven. Hopefully I will have made enough reparations for all my sins before I die so I can skip Purgatory and go straight to Heaven. Growing up I learned very little about the saints. Now that I know more of their stories, I find myself asking for their guidance and trying to imitate their virtues. This is exactly what we want children to do. But they can't and won't unless they know and can relate to the saints.
Children have wonderful imaginations. When they hear the saint stories in an exciting and relatable way, they remember them. Maybe not all the details such as when they were born but the essence of how God was FIRST in their lives. Children begin to incorporate the stories of the saints into their play. The little LEGO man becomes Saint Ildephonsus and the little LEGO girl, Mary.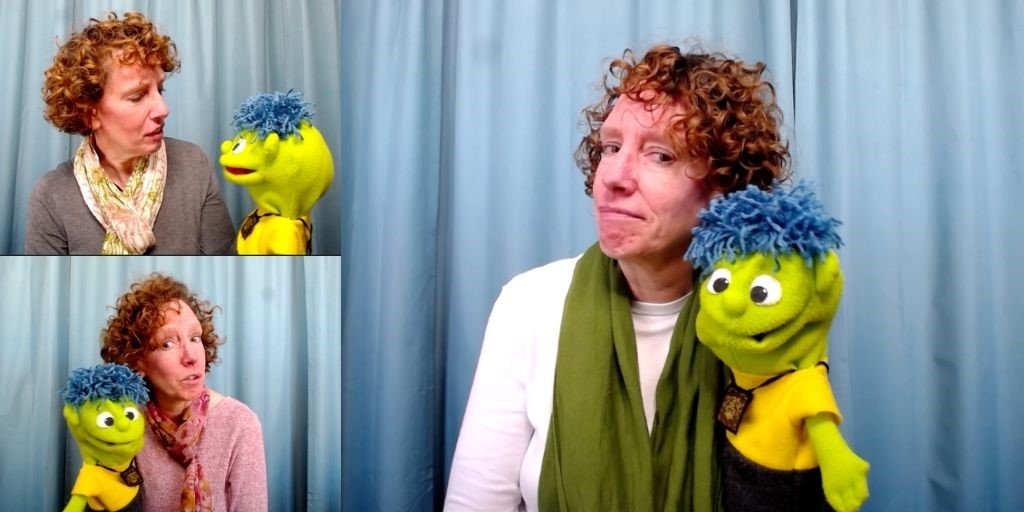 God wants us to imitate the saints. How can we expect our kids to do this if they don't know about them? When I teach children through my videos, I use my puppet Billy that I made. In the videos, Billy is about seven years old, and is very silly. The children are able to relate to Billy and often giggle at the things he says. In each video Billy and I discuss some aspect of the faith and I tell him a story about one of the saints. After the story we talk about the saint's life and I answer any questions Billy might have. 
Recently, I wanted to have videos on the saints and Catholic virtues become something that families have consistent access to. So, I started a subscription plan on my website, FaithandPuppets.com. Each month I post a video on a virtue, three different saint videos (each 10-15 minutes long), and three short videos on how each of those saints had that virtue. (Billy the puppet is in each video.) There is also a fun and easy activity for each virtue and saint story. As long as one is a subscriber, you have access to all previous months' videos and activities too. (Subscription rate is $35 per month.)
Reality is that sometimes you need 10 to 15 minutes to finish up dinner or to have a cup of coffee and some quiet. Often, when you need that break, you put on a video and then immediately feel guilty. You won't feel guilty when you put on one of Faith & Puppets' videos because your child isn't watching a mindless program. S/he is learning about our faith … and giggling too. NO GUILT!
The goal of Faith & Puppets is to make learning the Catholic faith fun through stories and puppets. Do you know who Saint Ita was? Do your kids? Well, try out Faith & Puppets by watching this free video about Saint Ita. 
Then, subscribe to my monthly program on FaithandPuppets.com and watch your children fall in love with the saints and learn the virtues that will keep them on the right path to Heaven.
Copyright 2021 Christine Henderson
Images copyright 2021 Christine Henderson, all rights reserved.
This article originally appeared on CatholicMom.com and is used with permission.
About the author: Christine Henderson is a professional storyteller that loves to tell saint stories. She has been the wife of her best friend for 27 years. They have six children ranging in age from 25 to 14 and she has homeschooled all her children through at least 8th grade (some attended the local high school). With her business Faith & Puppets, she creates videos that make "Learning the faith fun through stories and puppets." Follow Christine on Instagram @FaithandPuppets and Facebook.